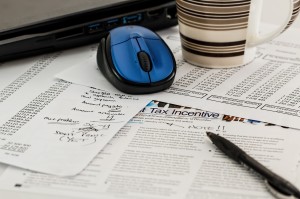 If you are in the United States, it's that time of the year again! Are you ready to file your taxes? Or do you dread the rigors that go with tax preparation, and although you know it has to be done, you don't want to even think of it?
Would you like to have all your paper work organized and ready: not missing or forgetting any document? Well, here's a post to help you get started, and hopefully make the process a whole lot easier… use the Tax Preparation Checklist below as a reminder.
Here's a friendly checklist to help you "remember what not to forget"!
Personal Tax Preparation Checklist:
Whether you prepare your taxes yourself, or you're approaching a professional for help, remember to take along the following:
Personal Information:
ˆ       Social Security Numbers (SSN) or Individual Tax Identification number (ITIN): In addition to your own SSN, if married and filing jointly, you'll need your spouse's social security number (or ITIN) as well.
ˆ       Date of birth: Your date of birth and your spouse's are needed to be file your tax return.
ˆ       Prior year's return: Some information on your last return may be required when filing your current one.
ˆ       Record of Wages/Salaries Earned (W-2 Forms): Take along copies of W-2 forms from all companies you and your spouse worked for during the year.
ˆ       Independent Contractor Income (1099-MISC): If you worked as an Independent Contractor, you will receive a 1099-MISC showing your earnings. This too is needed on your return.
ˆ       Record of Unemployment Income (Form 1099-G): If you or your spouse received unemployment income, you w receive a 1099-G Form that must be reported on your tax return.
ˆ       Social Security Benefits (SSA-1099): This form will state any social security benefits you received, if any, during the tax year.
ˆ       Business Income: If you are a sole proprietor, or have a side business, you will need to put together a record of your income from the business, as well as expenses incurred in the course of doing business.
Other Income:
ˆ       Interests, Dividends, and other Investment Income: These are usually reported on Forms 1099-INT; 1099-DIV, 1099-B, 1099-OID. So look out for these.
ˆ       Income from IRAs /Retirement Plans: Look out for Form 1099-R for any payments or distributions received on retirement plans.
ˆ       Rental Income: If you own a property that you rent out, keep records of income from renting out the property; expenses incurred to get the property rented, and any expenses on repairing or maintaining the rental property.
ˆ       Income from Sale of Property: 1099-S will report this income.
ˆ       Alimonies: If paid or received, know the amount, the full name and SSN of the ex-spouse.
Children and Dependent Relative Information:
ˆ       Children's Social Security Numbers (SSN) or Individual Tax Identification number (ITIN): Parents should remember to have the SSN numbers of any child to be included on the return handy. If you have any dependent relative, other than your child, you'll need their SSN too.
ˆ       Date of birth: Your return will require your children's date of birth if they are being claimed as your dependent on your tax return. You will also need to include the date of birth of any other dependent relatives that will be included on your return.
ˆ       Childcare Information: The Tax ID of the daycare center you paid to care for your kids during the tax year, while you work, is needed. If you had an individual take care of your kids, then you need their SSN. You also need to calculate the amount you spent on childcare. Most daycare centers will provide you with a report showing the total amount and their Tax ID. If not, request one from them.
  Other Documents Needed for Deductions & Credits:
Home Related:
ˆ       Mortgage Interests (1098): You should receive a Form 1098 from any bank you paid mortgage interest to during the tax year, showing the total amount you paid that tax year.
ˆ       Real Estate & Property Taxes: If you paid real estate and property taxes, these will also be included on the 1098 you will receive from your lenders.
Education:
ˆ       Tuition and Student Loan Interests (1098-T/1098-E): Be on the lookout for these forms if you paid tuition to an eligible institution during the year and if you made payments towards your student loan.
Charity/Donations/Contribution:
ˆ       Cash Donations: Donations made to some organizations (like churches and nonprofit organizations) are tax exempt. These organizations will send you record of your donations/contribution during the year.
ˆ       Non Cash Donations: Some companies will send you a receipt for your donation stating the value of your non-cash donation to their organization. For others, you may need to estimate the value yourself, but you must be able to support such values if ever you need to. Miles driven to volunteer your time and services may also be deductible.
If you are missing any of these documents or information, contact the company, person(s), or organization involved to request that the document be sent to you.
Depending on your peculiar case and situation, there may be other documents/information needed to file your taxes but the above are some of the general requirements.
Hope this list helps.
Rali Macaulay
Sign up here to get notified of new Personal Finance posts from Wellspring Inspirations:

Spread the love... Sharing is Caring!