"For I know him, that he will command his children and his household after him, and they shall keep the way of the LORD, to do justice and judgment; that the LORD may bring upon Abraham that which he hath spoken of him." -Genesis 18:19
Do you find it challenging to have family devotion consistently? With how busy and fast paced our lives have become, the truth is it can be challenging sometimes.
For many years I struggled with that too. Even though I and my husband had our personal quiet times with the Lord, it was almost impossible bringing everyone together at the same time to study the Word and pray together as a family.
We would rush through the mornings getting ourselves and the children ready for the day, that there just was not an extra time for the whole family to meaningfully have devotions together. We managed to have the usual rushed, "less-than-5minutes" prayers, but my husband and I knew we needed more time devoted to the family altar, primarily for the sakes of our children. How else will they learn, except through consistent practice? And how can they be taught of the Lord if it's left only to the church, or occasional "spiritual religious" talks? Not until we decided to look at it from a different angle and try something different from what we thought was the norm, were we able to find a solution that works for us as a family.
What did we do? We decided to take the steps outlined below, and we are glad we did! I hope it helps you get started on planning your family devotions too if you don't already have a consistent one; and if you already do, I hope this still blesses you one way or the other.
How to Fit in Family Devotions into Your Daily Schedule:
1. Take a Look at Everyone's Schedule:
Analyzing each individual's schedule in the home is a great starting point. Look at everyone's schedule in the house and pick a time everyone will be in the house, available to study the Word together, discuss it and pray as a family. What times of the day are you all in the home together? In our case, it was early mornings and evenings. These were the times every member of the family were home 99% of the time. But evenings happened to be the best time we can relax and spend time in God's presence together without any disturbing thought of missing a train, or getting to work late, so we opted to do our devotions in the evenings.
2. Decide on the Amount of Time Needed:
How long will your family devotions be? It does not need to be long to be effective. You want to keep it engaging and interesting, especially if you have little children in the family. If your devotion is too long, the little ones get distracted and uninterested. For us, we do about 30 minutes, but even with that sometimes our youngest child is all over the place 🙂 This is not a standard time by any means, but just works for the activities we decided to incorporate into our family devotions, and sometimes we finish early, or a little later.
3. Decide on a time that Everyone Can Commit to Family Devotions:
Once you know the amount of time you want to commit to this exercise, decide on the exact meeting time. Of course, there will be times you may have to move the time, but it will be the exception rather than the norm. It is important and more effective to stick to a particular time of the day rather than random times. Creating a routine helps everyone take this time more seriously. You'll be amazed even the little ones will be reminding you once it's time for family devotions!
Here are some questions to help in your time choice:
What time is everyone free and can come together for prayers?
If, like us, you decide on evenings, when is dinner time? And when is everyone's bedtime, particularly the younger ones?
These kinds of questions should guide you in picking a time that will work for every member of your family.
We chose a time in the evenings, because that is the time no one is rushing anywhere, and we all will be home. Of course, we had to sacrifice some tv times, but it was well worth it, and after a while, no one even remembered what program we had to let go of.
If the mornings or afternoons work better for you, then go for it. The important thing is that you are meeting and praying together as a family without rushing through your time in God's presence.
4. Create a structure:
Variety sure is good, but there can be variety even within a structured plan. Create and know what the structure of your family devotions will be. This is by no means any tough work. In fact, it is simply to do, and once it's in place, that's it. Everyone knows what to do each time. Determine what activities are to be incorporated into your family devotion. Here is an example: Opening Prayers; Praise and Worship; bible Reading; Sharing the Word; Questions and Discussions; Testimonies/Praise Reports, Prayer Requests. Closing Prayers.
5. Get EVERYONE involved:
This is one of the fun parts. Take turns in leading the family devotions and sharing the Word. What's working for us is having a day designated to each member of the family. The remaining days are "volunteer" days where we leave it open to anyone to volunteer to lead for that day. Even with that, each day is structured such that everyone has a part to play every day. The leader for the day usually picks the bible passage for the day and shares, but have the liberty to assign things like bible reading, prayer, praise & worship etc. The kids love this, and we even have days when some of them may decide to praise dance during praise and worship 🙂 Sometimes they'd even read from their bible story books and share from that.
This has been very productive and fun for us, and we hope you find a time that works for your family too, and that you will all be blessed and have family fun time in the presence of the Lord on a daily basis.
Will love to hear how you do your family devotions and what works for your family in the comment section below.
Much Blessings!
Please note that having a family devotion should not take away each individual's personal quiet time. We still encourage every member to spend time with God personally every day, and we encourage the kids to say a word or two of prayers when they wake up in the mornings. The family devotions are to collectively as a family learn at the feet of Jesus, and also provide a training ground for the children to learn to pray, understand God's Word, and generally learn how to develop a personal time in God's presence as they grow up. "Train up a child in the way he should go: and when he is old, he will not depart from it." -Proverbs 22:6
*** If you're not sure why you should have a family devotion, be on the lookout for my post on Why Every Family Needs to Pray Together.
If you'll like a manual to help you navigate God's Word, get scriptures for different situations, and learn how to turn these scriptures into prayers, you may want to check out my book: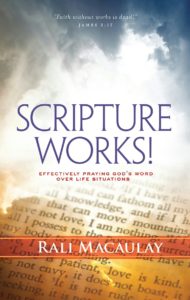 Spread the love... Sharing is Caring!