"There is no fear in love; but perfect love casteth out fear: because fear hath torment. He that feareth is not made perfect in love." -1 John 4:18.
God never wants any of His children tormented, and since His Word states that fear has torment, then without doubt, God's desire is for you to be delivered from every spirit of fear. Be delivered, in Jesus' name, as you meditate and pray the Word of God.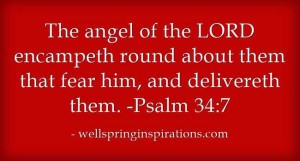 * Fear not [there is nothing to fear], for I am with you; do not look around you in terror and be dismayed, for I am your God. I will strengthen and harden you to difficulties, yes, I will help you; yes, I will hold you up and retain you with My [victorious] right hand of rightness and justice. -Isaiah 41:10

* And Moses said unto the people, Fear ye not, stand still, and see the salvation of the LORD, which he will shew to you to day: for the Egyptians whom ye have seen to day, ye shall see them again no more for ever. – Exodus 14:13
* Even though I walk through the darkest valley, I will fear no evil, for you are with me; your rod and your staff, they comfort me. -Psalm 23:4 (NIV)
* For God hath not given us the spirit of fear; but of power, and of love, and of a sound mind. -2 Timothy 1:7
* The angel of the LORD encamps around those who fear him, and he delivers them. -Psalm 34:7

* "Fear not; you will no longer live in shame. Don't be afraid; there is no more disgrace for you. You will no longer remember the shame of your youth and the sorrows of widowhood. -Isaiah 54:4 (NLT)
If this has been a blessing to you, please share with your family and friends, and be a blessing to them too.
Feel free to add your own verses on the topic, as a comment, below. God bless you!
If you'll like a manual to help you navigate God's Word, get scriptures for different situations, and learn how to turn these scriptures into prayers, you may want to check out my book:
Spread the love... Sharing is Caring!